EP-119 Amy Elliott – Oak Ridge National Lab
Amy Elliott graduated with a PhD from the Virginia Tech DREAMS Lab (Design, Research, and Education for Additive Manufacturing) in March of 2014, where her studies focused on inkjet-based 3D printing (Additive Manufacturing). She was project lead for the world's first 3D printing vending machine, the DreamVendor, which debuted in the Spring of 2012. Amy has several patents pending related to 3D printing technology.
Amy started working at Oak Ridge National Lab's Manufacturing Demonstration Facility (MDF) in September of 2013. At the MDF, Amy meets with industry from across the nation to consult them on strategic application of 3D printing technology. She conducts research in conjunction with industry efforts in the area of binder jetting, through which she explores new material systems in ceramics and metals.
Amy received her BS in mechanical engineering from Tennessee Tech, where she participated in the Baja SAE and NASA Moonbuggy competitions, building her hands-on fabrication skills. During her undergraduate studies, she participated in 2 years' worth of co-op terms at NASA Marshall Space Flight Center and apprenticed a machinist for 6 months during that time. Because of her experience machining, welding, designing, and generally fabricating machines, she was selected to participate in the Discovery Channel's "The Big Brain Theory," a reality show competition that pits teams of engineers against each other in designing and building complicated contraptions, such as a water fall elevator or automated food-making machine. Amy placed 2nd out of 10 contestants, winning 5 of 8 blue print challenges and leading her team to victory in all but 1 challenge.
In addition to her research position at ORNL, Amy is currently serving as an on-camera expert for Science Channel's Outrageous Acts of Science and co-host for the new webseries, RoboNation TV, which showcases the latest research in robotics along with international collegiate competitions focused on automated vehicle systems. She is also the STEM out-reach representative for the MDF and supports a MOOC (Massive Online Open Course) for Additive Manufacturing for Business Leaders with Deloitte.
At home, Amy enjoys tinkering with her various 3D printers and working on random inventions. She also enjoys the outdoors and loves to snowboard, kayak, wakeboard, hike, backpack, dirt bike, or anything that seems slightly adventurous. She and her husband raise urban chickens and bees in their backyard and hope to one day own a farm.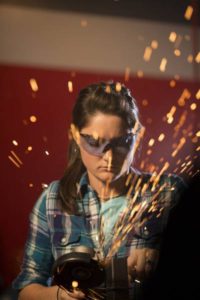 Podcast: Play in new window | Download