EP 103 Dave Arndt Podcast
Dave Arndt is the President and CEO of Pentaflex. If that weren't enough to keep him busy, he's also the CEO of the PMA. His insight has led to Pentaflex worldwide reputation as a leader in forming and fabrication. Dave gives us his insight into what will be the Destiny and the future of manufacturing.
Graduated from GMI and and an MBA from University of Michigan.
Worked in management positions at both GM and Ford.
Executive management positions at MascoTech, AG Simpson,
Oxford Automotive and Faurecia. President and CEO of Eclipse Manufacturing
In Sheboygan Wisconsin. For the last 5 years, President and CEO of Pentaflex, Inc.
In Springfield, Ohio. Pentaflex is a contract stamper for the heavy truck market
Specializing in brake, axle, exhaust, and suspension deep draw, heavy gage stampings
And welded assemblies.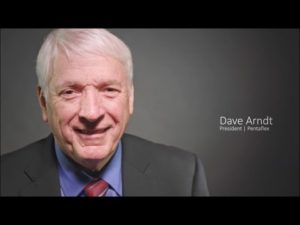 Podcast: Play in new window | Download (29.3MB)